40thousand model is BERTINI´s proposal for multipurpose seeders to be used all the year round.
The only precision pneumatic sower which can seed grains up to 20 cm-distance between furrows. NEW FREE PASSAGE CHASSIS TO CONFIGURE THE SOWING LINES AT THE DESIRED DISTANCE.
CHARACTERÍSTICS
• Distance between furrows is variable and continuous
• Flexibility of seeding unit makes it possible to narrow lines up to 17.5 cm.
• Scrapers in the covering wheels which keep them clean in wet and clayey soils.
• Blade with stubble shoe, which keeps it clean and controls depth.
• Hydraulic lifting of 20 ton per cylinder. It allows a 55 cm clearance.
• If you place plastic packs for seeds, you will be able to use both hoppers for double fertilization.
• Alfalfa box and for sowing rape – dosing starting at 1 kg per hectare.
• Combined for coarse grain – pneumatic system.
• Turbine driven by hydraulic motor (without cardan). Distance between furrows from 20 cm to 2 m.
• Equipped with pneumatic kit for sowing corn, sunflower seeds, soya, sorghum, grain by grain.
• It can sow all furrows employing the pneumatic system.
• It allows the rise of soya yield, planting seeds per metre, and decreases kg per hectare of hybrid wheat, planting 40-50 grains per metre.
• With the unique pneumatic dosing system by blowing (manufactured by Bertini). It is extraordinary due to its precision, zero wear, and low power consumption. Only one turbine can supply 40 furrows for all grains, especially wheat and soya.
• Volumetric dosing system driven by an 81 speed gearbox.
• Pneumatic system by blowing entirely manufactured and patented by Bertini:
exportable quality
• Straight seed tube to avoid seed bouncing… perfect planting.
• Longitudinal transport. Estimated width: 4.9 m.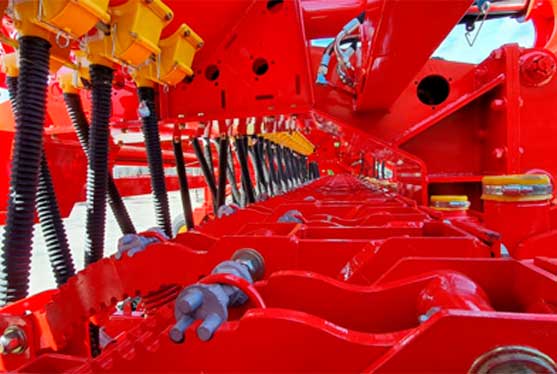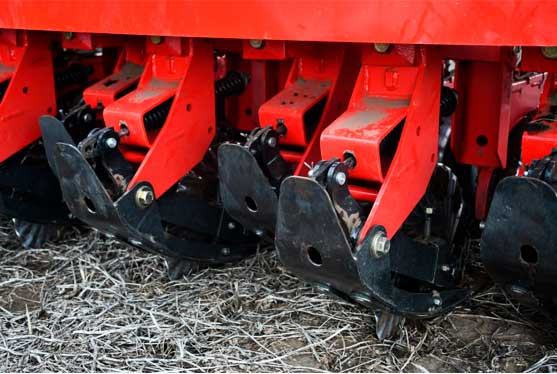 Bertini pneumatic system
by blowing
Bertini has developed a pneumatic system by blowing with huge advantages over already known systems (suction, fingers, flat plate or inclined plate).
SEEDING UNIT FOR FINE GRAINS
SEEDING UNIT FOR COARSE GRAINS
Transport system
New transport system…
"drawbar pull"…
Means of transport: "CLEAN" design Longitudinal transport. Estimated width: 4 m. Hydraulic jack for changing wheels from seeding to transport position and vice versa.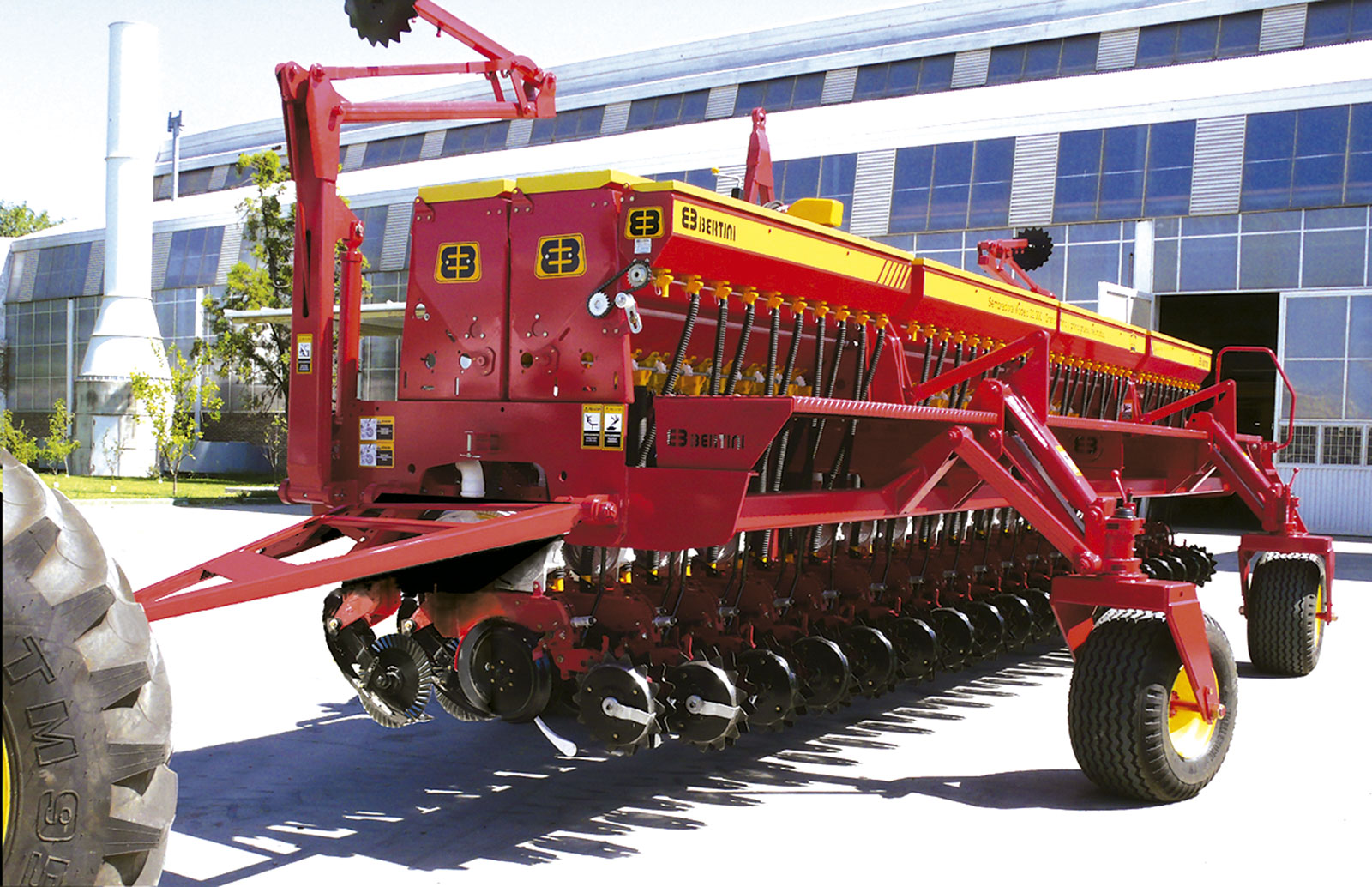 TECHNICAL SPECIFICATIONS FOR BERTINI 40.000 MODEL SOWER